I've arrived early, but still not early enough for these busy designers. I make my way through the makeup gurus to the very back where Nusha Blaszczyk of Toja Fashion is sitting, sewing finishing touches on a light pink top in what appears to be a closet. She asks if it's okay to keep sewing, to which I heartily agreed. I can immediately tell she's such a sweet soul.
A: How did you get started in the fashion industry?
N: I've been, um, designing since, well sewing since I was eleven or twelve.
We laugh as I inadvertently stole one of the makeup artists' chairs and she politely asks for it back.
A: What made you decide to pursue this professionally instead of just a passion?
N: Um, so yeah actually I was born and raised in Japan, and um, my father—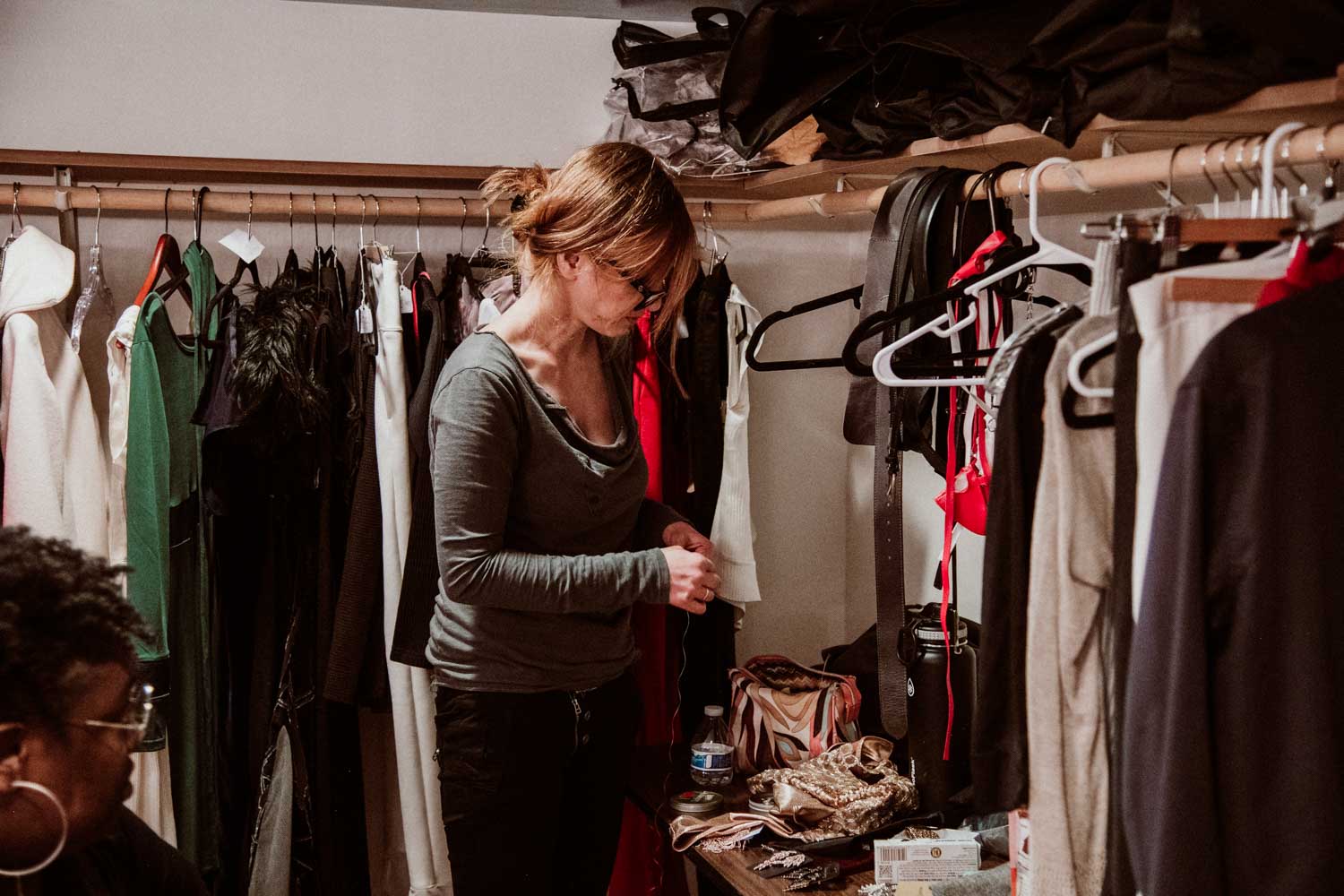 "Do not give up. Keep working for your dream"
One of the staff members lets Nushia know the models are doing their walk if she wants to watch, and we walk and talk on our way up to the runway.
N: —yeah so my father sent me to Pakistan to his sister so I can learn about this culture at age ten, uh so over there my aunt was sewing and um, you know, it's very strict culture over there, you can't really go out and stuff so that became my hobby. I started to learn from her. And over there it's a big thing to go buy your fabric on your own and get it sewn by tailors, get embroideries—this is like a huge thing in Pakistan. So yeah so that's how it started and when I came to the US, I got married, and I found out in um, community college—I already had three kids—there's classes you can take and I didn't know it. So it's been about 18 years since I'm done with school.
A: What made you want to do fashion shows in the Midwest versus other fashion shows like NYFW or west coast shows?
N: Well at the time I was raising, you know four kids and last December I started to showcase my work. I was contacted or put in contact with Berny, like something from Instagram or he saw it or something from when they had a show in Chicago.
A: What's your most favorite part of fashion shows?
N: Uh, I just love to create and I love seeing the girls enjoying the show. I love to see the outfits on the girls and their reactions of it.
A: What's your most favorite design you've ever made?
N: I love the work that I did in my school because those are more free. I don't have to worry about if actually anybody is going to wear it. I have to think about that for this so it has to be something that people can actually wear. In New York I was in fashion week and it was amazing.
A: What would you tell someone who is just starting out in the fashion industry?
N: Do not give up. Keep working for your dream.
The Emcee for the evening begins to talk to Nusha, so I thank her and make my way over to Berny Martin, owner of Personnage and Catou.
A: So what inspired you to get into the fashion industry?
B: Haters. No, I'm kidding. No, what inspired me to get into the fashion industry? Wow that's a… huh. Anybody can do it with any career, you know.
A: But what motivated you?

B: What motivated me? I mean over the years it has changed. For me, I had the experience of traveling at very early on in my life. I've traveled since I was like 10 years old, you know, so I was always curious what people do, what they wear, what they assemble, and things like their mannerisms from one place to the other… or even one neighborhood to another neighborhood, you know? Especially because I grew up in Brooklyn. You know I remember a driving experience in how I was growing up there and it was always fashion like this, different neighborhoods, different cliques, different nationalities—Jewish, Black, Black Caribbean, Black African, black this, black that, black upper class. So I was motivated by that. And then when I went to Africa, I even got more motivated. Then you start to understand the prints, the language, the tribal, how they wear their clothes, and so on and so on. I started designing and I just wanted to represent that. People don't understand when I'm designing, actually I'm talking language. As soon as like, someone put my clothes on, I can see their reaction. You know, how they feel in their bodies, the color probably, the cut probably, the design probably, I don't know. But it plays with their psyche in a way, because I can see when they first walk in, even with models, when they first put the clothes on they realize the little details and they kind of move in it, yeah. And then another side of it I really enjoy is when I give my clothes to a stylist or another artist and then they flip the clothes into something else that is completely different from what I originally intended to do with it. And then I'm like, 'Oh wow, sh*t, that completely blew my mind even further.'
A: What is your inspiration for this evening's show?
B: Honestly, I was really deeply motivated by Nip. Yeah, I was like kinda mad but at the end of the day I was not really mad, you know? What do you call it again? How his death have united a group of people that probably would never have had the chance to be sitting next to each other and talk to each other and things like that? Because you know, a lot of people don't know but I grew up in the hood, in Brooklyn so I know exactly what that kind of mindset of that hateful—I don't want to even say gang banging, to me it's more than that it's like … that culture. It is a culture. That's the keyword. To me it's not even a gang, people keep referring to it as a gang but it's not. If it was a gang, it would have been destroyed already. It's something that has been fed into their mentality and now is becoming, I don't know, probably beyond culture now. With that being said, seeing his death now bringing that hateful culture to be like, "Oh wait a minute, like what needs to change?" Because if you think about it, the Italian had gangs, the English had gangs, the French had gangs, but what went on out there, it's more than a gang. There's pure hatred. It's distasteful. Even in Chicago, a gangmember stalking a four year old to kill a four year old? I can't even [wrap my head around that].
A: What else about Nip was your motivation?
B: That's all it was, it was such a motivation that when that happened, quickly learning about him—
(he imitates searching the internet on his phone)
B: —and I'm looking like, 'Oh my god, that guy was really doing something good, like trying to bring something to life," and I think he got inspired by the way he was dressed. Yeah, you'll see some of it. And um, and then where he was from too, because I used to live in Africa everywhere. And I took a pic and maybe a lot of people don't know, the way he pull his pants and all that, that's the Ethiopian way, eventually I did learn that he was from Eritrea, you know Ethiopia. I didn't think too much, but I knew from the little pieces here and there, I was like ah, okay!
Do not give up because you're gonna be that new flavor that everybody has to get used to.
Berny shows me some images of this style of rolling up the cuffs of pants and we roll into the next question, just 25 minutes from doors opening.
A: So what's been your most favorite piece that you've ever designed in the whole world?
B: Ahhhh gosh that's a hard one. That's the killer mike one. It's hard. Most favorite part. Oh my god. I have so many.
A: So pick your top three. Think about it for ten seconds and then shoot it off.
B: There's one time I did a camouflage jacket in the time nobody was doing camouflage like that. That's pretty much what you do as a designer. You, you predict what's coming, you don't want to do what's coming now. You predict what's coming in like two or three years. A lot of people don't know that, but fashion is doing things that's going to be hot in even one year, for the future. People don't understand why Alexander McQueen was great because he was like ten years ahead of the time. There was a cocktail dress. What's funny about that is when I was doing it, it was kinda one of those things that you just did it and it'll be okay and it turned out to be like one of my hottest dresses. Like a lotta women, especially here in Indianapolis love it because of the bust, the way it was cut and everything, because it was kinda nice, and it had pockets and functionality. That's two.
A: Yeah, it's your last one!
B: Oh God. I love, I love every one of them, they're my babies.
A: I know but you have to separate one of your babies!
B: It has to be another dress, with actually, I just showed it in Dubai, with the little float thing, and what I like about it too, is the flow is like a butterfly. What's interesting about it is, you put your hand behind this and it can flap and flow, no pockets. You couldn't. It's too tight to the body, very form fitted. But he has a link to it. So these three. That jacket is still hot right now. People still want to borrow it, can I buy it.
A: What advice would you give to someone that is just starting out in the fashion industry?
B: It's not what it's perceived to be. Hang in there. Because fashion has a uh, you're dealing with luxury. A lot of designers don't understand… well let me put it this way, let's say you grew up eating only vanilla ice cream, right? Every day, 24/7. Then let's say you're probably 40 years old and then the world decided to come out with a new flavor. What do you call it, chocolate or strawberry. If you are not an adventurous person to say let's try this out, yay there's a new flavor oh my god, how much resistance do you think you're going to put out, to say BAM let's go try this new flavor? That's what a lot of young designers don't understand. Your first five years are adventurous, yeah. Nothing. I mean, Santa Clause ain't got nothing on you, let's put it that way. It is THAT bad, that's what I'm saying. Because not only are you going to be confused because you think, 'Oh yeah I'm a young designer, I'm gonna make my clothes this way, da da da,' and then after 5 years, you realize, 'Oh sh*t, nobody's buying sh*t from me." And you're wondering why and then you start investigating why then you start hanging out with your marketing people and they're like shoot they don't like me. Why? Because I'm the new flavor. But how do you go out there and tell the world to chase that new flavor? That's why I tell you it's not what it's perceived to be because you have to come out from day one with a warfare mindset. No matter what I won't give up. For me, I've been in this game for 13 years, but I'm not graduated. Most people know school takes 15 years minimum for a brand to really launch. But people will say what about all the designers with famous people? What makes you think they are successful? What makes you think they are selling and why do you think after about two years you don't hear from them anymore? But if you're comparing designers and looking at Chanel, Yves St Laurent, Dior, those guys that have been doing it for fifty hundred years. So I will say it's not what it looks like. Have a mentality of a warrior. Do not give up because you're gonna be the new flavor that everybody has to get used to.
After Berny scuttles away to help manage the show, mind you he's been upstairs while models are in hair and makeup and remained mostly upstairs until just before curtains to assist with clothes (he's a pro), I look to find Vanessa O'Brien. She's working in the corner of the hair room dressed in a beautifully vibrant outfit: a red, white, and black patterned wide leg pant, coupled with a red and navy blue multi-patterned shirt with hints of yellow throughout. She's trying to figure out how to get the model in her dress, and is no less busy than before, but I ask her if we can go ahead and she calmly says, "Yes," with a smile.
A: What inspired you to get into the fashion industry?
V: Um, being an African woman in general, it's like, it was difficult for me to find where I actually fit in and then one day I was like you know what? I think I like clothes, and not just clothes I like colors. And then I decided to see how the colors mix together, how the patterns go together, like why Africans wear bold patterns and just mix patterns and prints together. So I literally found my culture, like as an African lady I found my calling in fashion. I can mix my culture, mix my, mix everything within fashion. My fashion is not for everybody but it's my calling.
A: What is your motivation for this evening?
V: This collection is called Modern African Woman, and um, I'm literally looking at making things bolder, making people feel bolder and stronger, you know, me making you happy, like empowered and confident by my clothing. I want you to feel bold, and that's exactly the goal of my line, this collection. I just want the effortless beauty.
It's either you fail or you make it. Don't be scared.
A: What is your most favorite thing that you designed to date?
V: Oh my god, that is hard to answer. It's so difficult! Like, I love the simple stuff. So anything that you can just wear and go out, still look pretty but extra beautiful, I like stuff like that.
A: What have you designed that's there for you?
V: Oh my god, that is hard. As weird as that sounds, shorts. I like my shorts. I do like them.
A: What's your most favorite look?
V: My most favorite look? Oh, that's so difficult. Okay, it could be the Fela Kuti pants. Something like what I'm wearing. Fela Kuti was a legend, he's still like, a legend in Nigeria, in Africa. He's basically the giant of Africa so I get my inspiration from him. So Fella pants, those are my favorite.
A: So is he one of your biggest inspirations?
V: Yes absolutely.
A: What advice would you give for someone just starting out?
V: Do it.
A: Just do it?
V: Haha, yes, just do it. Like as simple as that sounds, get on it, just do it. Believe in yourself. You only got you. You really gotta believe in yourself.
A: If you could tell you younger self something that you know now, what would it be?
V: Don't be scared… of trying new things. Like it's really not that bad. It's either you fail or you make it. Don't be scared.
A: How long have you been designing?
V: Officially three years, but I've been doing this since I can remember, in primary school sketching and being all over the place for a while, like six years.
A: What made you join Midwest Fashion Week?
V: Oh, whoa, I was here two years ago and I sat on the stairs, and I was like yeah I will be in the show in five years. Two years! In two years how about that? I really like what this whole thing is about. Indianapolis feels like New York and it's the only place that feels like that. It's amazing and I feel honored to be a part of this.
**Unfortunately I was unable to interview Elan Furs as the show was close to start time when they arrived.